RIO

FlowVision Introduces Our Newest Software Product:
RIO–RACK ITEM OPTIMIZER

The Need
Many growers today do not have an optimal way of loading racks. Many leave it up to their dock employees to determine what to put on the racks. This is time consuming and in many cases inefficient. Another issue facing growers is knowing when full racks are going out to a customer. Sending partially filled racks increases your transportation costs. Sending partially filled racks is a lost opportunity to upsell your customer.

The Approach
RIO is the result of over twenty years of Supply Chain strategies, and over 12 years of LEAN in the Green Industry experience. Our software will allow you to more closely manage your logistical payloads and ensure that your customers are receiving their product with the highest level of accuracy while exceeding quality standards.
RIO puts the supply chain in your control, allowing you to optimize your racks and truck loads. The tried and true First Fit Decreasing algorithm will allow your order entry team to completely fill the racks before the orders are routed. This visibility to the orders will not only position your sales team to increase sales but will also drastically decrease the chaos caused on the shipping dock due to incomplete racks on orders driving the logistics team to ship air. The designed patent pending algorithms, along with multiple sorting capabilities, will allow for orders to be optimized whether the customer is an IGC or a big box store. Racks sheets like the one shown below are created for every rack. These rack sheets become individual packing slips and make receiving more efficient, while minimizing discrepancies.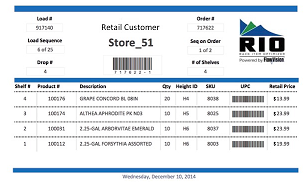 Master pull sheets replace the pull by order methodology most growers use today. They increase efficiency in the pulling process, reducing travel time, as well as reducing tractor requirements.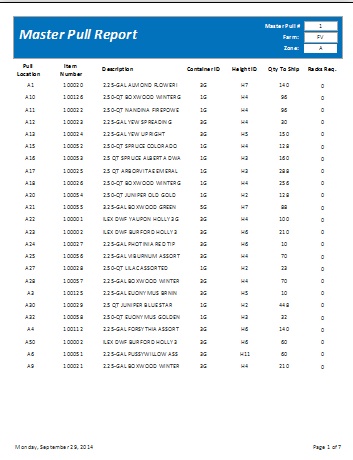 RIO implementations can create benefits that include:
Fully optimized racks

Increased payloads, less air being shipped

Increased productivity at loading dock
Reduced credits/claims
Increased sales through upselling your customer


Download a RIO Product Data Sheet.

Call FlowVision at +1.561.301.8740 or contact us for a demo