Would you like to see your planting rates – sticking or transplanting – go up by 15% to 40% or more? Let's say, just for illustration, that your current rate is 1,000 PPH (plants per person per hour). In this example, the improved rate would be 1,150-1,400+ PPH. You could produce the same volume with a 13%-29%+ smaller team, freeing up more people to do other important tasks in your facility. Or, you could produce 15% to 40% more output with the same staffing.
How would you get – and sustain – such dramatic productivity improvements? Not by pushing your planting crew harder, in an already stressful environment. Not by turning up the belt speed. Not by a piece-rate bonus that can compromise quality and yield.
Your path to 15%-40% productivity improvements is a FlowVision Lean Flow technique called Progressive Planting. It combines belt delivery of ready material with the efficiency of team-paced sequential planting.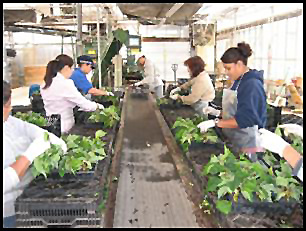 Progressive Planting employs time-tested, visual Lean signals – in-process kanbans, or IPKs – in combination with a proven progressive hand-off technique, to ensure that each progressive-planting crew is truly a team. Each planter works at his or her best comfortable and sustainable pace, and the team's output is driven by the overall team's average pace. Neither a belt's pace, nor a slow or new worker, dictates output.
This off-belt, progressive work also enables effective, minimally-disruptive on-the-job training for high-turnover or temp-worker circumstances. Off-belt does not mean no belt: With Progressive Planting, your belts do what they do best: moving filled flats or containers to the planters, and moving completed product to its next destination.
FlowVision's Progressive Planting has benefits beyond the actual planters. You have productivity opportunities throughout your planting production group: Flat-filler (or pot-filler) operators, dibblers, tag / label / handle / hanger installers, quality-control inspectors, trailer / cart / bench loaders, and laydown crew. Progressive Planting improves productivity in all these tasks.
And let's not forget material handlers for hard goods, labels, plant materials, soil, hormones, etc. In the Progressive Planting technique, material handlers are a key to productivity.
Finally, your planting-line supervisor or lead is critical to executing Progressive Planting – every week, and every day. How so? This person determines what will be produced, in what quantities, and in what order. Based on this plan, the supervisor or lead uses FlowVision planning tools to calculate the line's staffing. Clearly, a large contributor to productivity is having the right number of people for the required output.
Progressive Planting is an engineered solution. No, this doesn't mean expensive mechanization and facilities changes. It means using verified data and observations to establish physical rearrangements, workforce teams, standardized work and documentation, visual signals and planning tools to re-design your planting lines – and to run them every day. The focus is not on planting quicker, though this is often a result. Instead, the goal is for your planters to plant for more seconds and minutes per day. This means eliminating their interruptions, non-value-added work and idle time.
Progressive Planting offers "side benefits," some tangible and some not, that naturally accompany sustainable productivity improvements: Less unplanned overtime, less stress, fewer injuries, fewer pizzas to feed the crews that you kept so late. Many facilities using Progressive Planting have literally found their crews asking at season's end, "Did we have a peak week?"
Your Progressive Planting lines can be up, running and providing benefits in a matter of weeks. In fact, FlowVision – along with your experienced team members – will likely have you and your planters "test-driving" Progressive Planting by the second day of your Lean Flow implementation.